With an evaluation session costing around $700, speech therapy can be expensive. From there, the costs rapidly increase, as each therapy session can set you back $200.
Sadly, low-income families will find it challenging to afford such costs, especially when the therapist recommends two to three sessions a week.
For such families, Medicaid is a good option.
Medicaid has broad guidelines, with each state having different eligibility standards. Thus, you need complete information to figure out if you're covered or not.
Does Medicaid cover speech therapy or not? Let's see what Medicaid is, how it can benefit you, and whether you're covered or not.
What Is Medicaid?
Medicaid is a federal initiative to support eligible low-income individuals needing medical care. The June 2022 report said that it covers 82.3 million people.
State and federal governments jointly fund Medicaid.
Through Medicaid, the federal government aims to assist states in providing medical care to low-income families and individuals who cannot afford health expenses.
The federal government provides a broad framework and essential guidelines, but it is for each state to figure out the implementation.
The state's responsibility includes establishing income eligibility standards, duration, scope, type, amount, and payment rates.
The federal government oversees the state standards and eligibility criteria through the Centers for Medicare and Medicaid Services (CMS).
Does Medicaid Cover Speech Therapy?
Medicaid covers speech-language pathology and audiology services, but the coverage varies from state to state.
For example, Alabama offers Medicaid coverage for speech and hearing services for deserving families. The age bracket for this coverage is from birth to 21 years.
Other states have different age brackets for children with speech delay problems. The coverage percentages also vary across states.
Additionally, some states may require a physician order, while others have limited coverage for different speech challenges.
How To Avail of Medicaid?
Depending on the expert's diagnosis of your child's speech challenges, you could be eligible to receive assistance from Medicaid.
To find out whether your state offers coverage for a particular disorder, apply for Medicaid using one of the two ways:
Health Insurance Marketplace
You can buy insurance that comes with federal subsidies from a trusted insurance marketplace.
There are online platforms where you answer several questions and find out right away if you qualify or not.
Those who are not confident about online form filling can contact their state medical agency instead.
You can visit or call the agency and meet with an expert to determine if you qualify for Medicaid benefits or not.
What To Prepare Beforehand
States have different regulations and consider many factors to determine eligibility, but each state generally requires the following documents:
Medical history of the child, including functional status, prior treatment, evaluations, a brief description of symptoms, and a short family medical history
 Relevant diagnoses by a medical professional, including language processing, speech challenges, swallowing, autism, speech delay, or balance disorder
Date of onset
Referral by a physician
Child identification to determine eligibility
Important dates such as initial assessment, early signs, and symptoms
Report of initial assessment, including procedure used to check cognitive communication, language, voice, speech disorder
Treatment plan if already assessed
Progress reports and notes by the SLP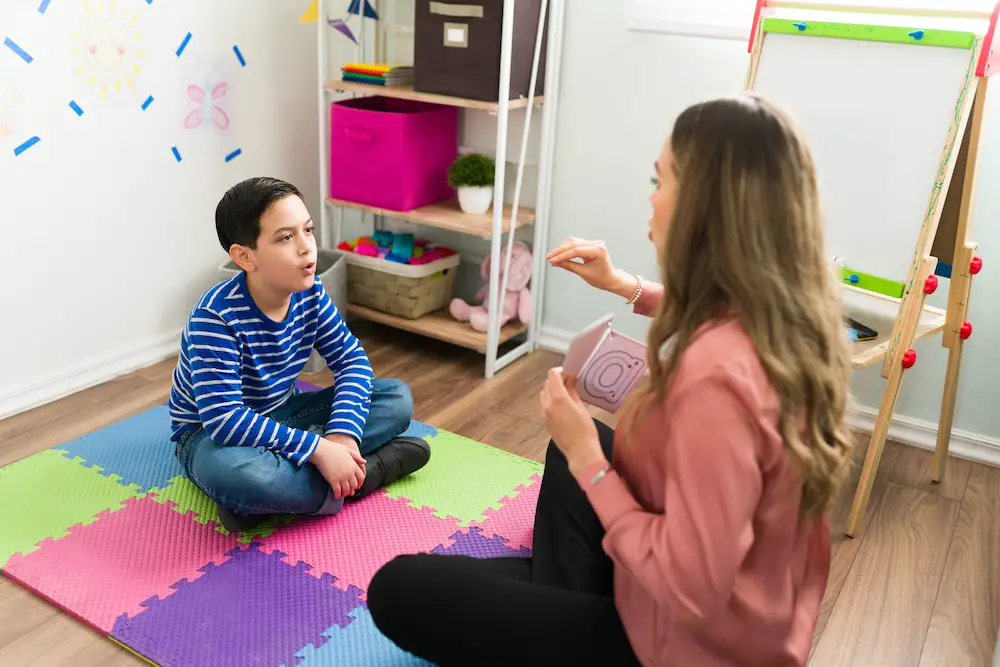 Medicaid Limitations
Medicaid is a great service by the government for people with low incomes. It provides extensive coverage for most disorders.
You don't have to pay a monthly premium or copayments if you're working within the network.
However, Medicaid has some limitations that you should know in advance, including:
Not every type of speech disability may be covered by Medicaid.
For example, the state may offer coverage for autism-related speech challenges but deny treatment for speech delay problems.
It may also not cover therapy by a specific type of professional.
That's why it is important to check if the therapist you choose meets the criteria of Medicaid.
The therapist must be in the Medicaid network for you to qualify for coverage.
Sometimes, Medicaid payment rates are not lucrative enough for treatment providers, so they don't join the network. In that case, you cannot get reimbursements.
Although most states allow coverage until 21 years of age, that could be a problem for persons with disabilities.
After age 21, they must support their treatment themselves or their families, which can be a burden.
Helpful Resources for Children With Speech Challenges
While you wait for Medicaid assistance, you should spend your time learning about speech challenges and how you can help your child through them.
One way to do that is to read about speech delay challenges and how you, as the parent, can speed up your child's progress.
This book is written for students, but parents can also benefit from its valuable insights and practical tips.
It contains relevant information arranged logically, helping you develop a deep understanding of several speech issues.
If your child exhibits signs of communication challenges at an early age, you can consult this book to understand their problems.
With practical guides and insightful information about the most common speech disorders, it helps children and adolescents alike.
This is one of the finest books on speech disorders, with helpful approaches to tackling speech challenges based on scientific evidence.
The author collected information about assessment, analysis, speech acquisition, diagnosis, and intervention to help SLPs diagnose and manage speech disorders better.
Early Intervention Is Best!
So, does Medicaid cover speech therapy? As you can see, the topic has many details related to state policies and federal law.
The best approach is to get in touch with a Medicaid representative through your state medical agency and ask them about all the details.
While you prepare your documents and plan your child's therapy, you can learn valuable insights from the recommended books on the subject.
You can also check out some of the best toys for children with speech delay challenges. Such toys help develop cognitive functions and assist them in learning valuable social skills.