Playtime allows kids to practice and advance their skills at their own pace.
What's more, it ensures that they develop unique interests early on, which they carry through their lifetime.
In fact, if you're wondering when do babies start playing with toys, you'd find that they do so at a very early age.
At just three months old, you can find baby toys by age that will assist your little one to develop his fine motor skills.
As he reaches toddler age, your little explorer will then begin learning by doing, and using age appropriate toys is key to helping him.
Because of the importance of playtime, parents should be extra careful when choosing toys.
What are parents looking for in toys for toddlers?
What Are Parents Looking for in Toys for Toddlers?
What you pick for your child can help him develop and shape his life in very important ways.
Though it seems easy enough to select baby toys by age, it can sometimes feel overwhelming because of the many choices available.
Here are important considerations to take when looking for toys:
1. Toys That Offer Versatility
If you ever have experience watching a child playing with toys, you'd notice that they like taking things apart and putting them back together.
They also enjoy building and adding on to a specific item.
With this in mind, you want open-ended toys that allow for different game modes. For example, wooden and plastic blocks can make a structure, road, bridge, and spaceship.
Toys like these can spark the imagination and help them develop their logical and problem-solving skills.
Examples:
Many toys can be used in various ways. They include:
Interlocking blocks
Water and sand toys
Nest blocks and cups
2. Toys That Grow With the Child
As early as three months old is when do babies start playing with toys.
While your little one may like a specific toy right now, as he gets older, he will most probably toss it aside. This can be aggravating as a parent.
Another issue is that they like it at first and then never play with it again after just a few days.
You can guard against this issue by considering toys that are fun for various developmental stages.
Many manufacturers now use this tactic because they want you to buy these toys.
To do that, you need to feel that your child is going to like it now and also a few months or years later.
Almost anything can grow with your child if they enjoy the toy. For example, those small plastic animals are nice.
Younger children can make a zoo for them with their interlocking blocks. An older toddler might make up a story about the animals.
Examples:
You can find various toys that can be used by older and younger toddlers. They can include:
Plastic action figures and toys
Dollhouses (suitable for toddlers)
Dump trucks, trains, and other vehicles
Stuffed dolls and animals
Related: Best Toy Trucks for Toddlers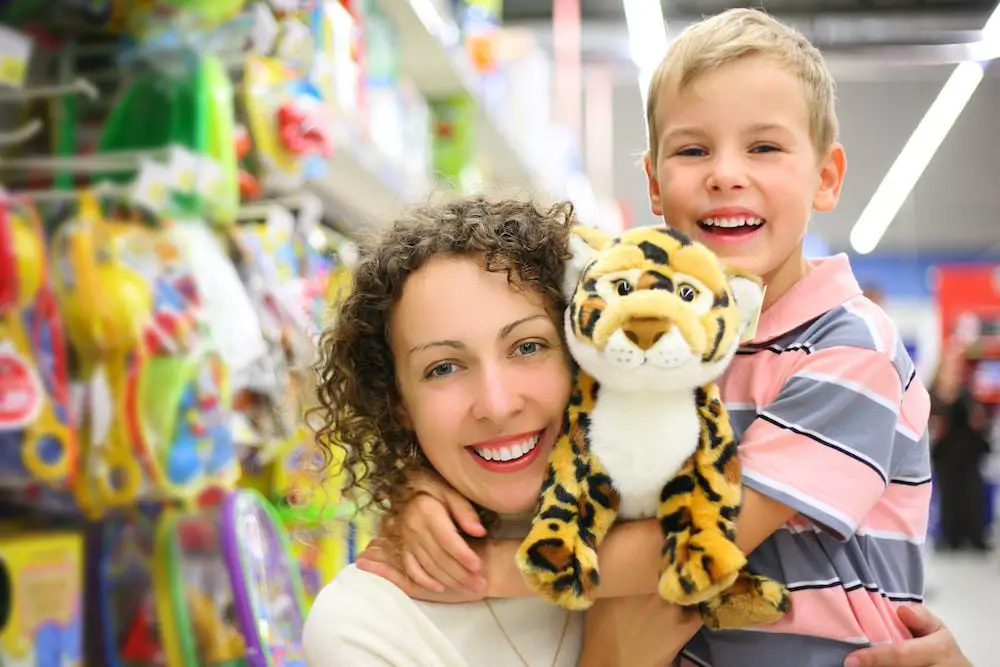 3. Toys That Encourage Problem-Solving and Exploration
Playtime allows your child to learn new skills, so it's important to choose toys that enable kids to figure a problem out on their own.
At first, they may need a little help from you to avoid frustration.
This helps to build logical-thinking skills so that they are more persistent when it comes to solving problems.
Such toys can also help your child develop their spatial relation skills, which is the understanding of how things go together.
Other developmental skills they can learn are hand-eye coordination and fine motor skills (small muscles in the fingers and hands).
Examples:
If you're interested in child development toys that focus on problem-solving, these are some great options:
Puzzles
Blocks
Shape-sorters
Nesting cups and blocks
Art materials (crayons, play-dough, clay, and paint)
4. Toys That Spark the Imagination
While all children like to imagine things, a child's third year of life is where most of the creativity and imagination come out.
They now desire to take on other roles, such as playing a king or queen. Children may imagine there is tea in the teacup when it's just water, or that a block is a piece of cake.
You can find toys that can help your child imagine new things and act out various stories.
Pretend play is important because it can build literacy and language skills. It also helps to sequence where you put things in a logical order and problem-solve.
Examples:
Almost anything can be used to help with your child's imagination. However, these are excellent choices to consider:
Dress-up clothing
Toy food/kitchens
Blocks
Action figures
Toy tools
Dollhouses
House accessories (toilet paper tubing, cardboard boxes, etc.)
5. Toys That Allow Children to Play With Real Things
A child playing with toys is his way of learning how objects work. Things like the television remote or light switch are simple ways to show your child what to do.
Of course, young children also like playing with real stuff, like a cell phone. They want to be capable of doing things just like you.
It might not be suitable for them to have the real thing, though, so many toy manufacturers offer toys that look similar.
For example, you can buy a fake cell phone that looks real but is made of plastic. That way, your toddler thinks they're just like you.
Plus, toys like these can help your children solve problems, develop fine motor skills, and learn spatial relations.
Examples:
While you may let your child play with the pots and pans or a cell phone at particular times, these toys are just as effective:
Plastic dishes and silverware
Fake food
Toy phone
Toy keys
Musical instruments
Dress-up clothes (like adults)
Child-size cleaning tools (dustpans, brushes, mops, and brooms)
6. Toys That Help Them Get Ready to Read
At some point, your child will be old enough to start getting ready to read and write. To help them during that stage, you can use those magnetic alphabet letters that go on the fridge.
Art supplies, such as markers, fingerpaint, and crayons, can help your child learn the finger skills they need to write later.
You can also find various pop-up books, which make reading fun. With these, even if you aren't available to read to them, they can still see the pictures pop up.
Real-life items, like take-out menus, can help your child get familiar with texts, letters, and print.
Many toys now include words, as well as say what the word is. This helps your child associate a particular picture with the real thing.
Examples:
As mentioned, you can have several child development toys that can help your child be familiar with letters and words, including:
Magnetic letters
Markers
Crayons
Other art supplies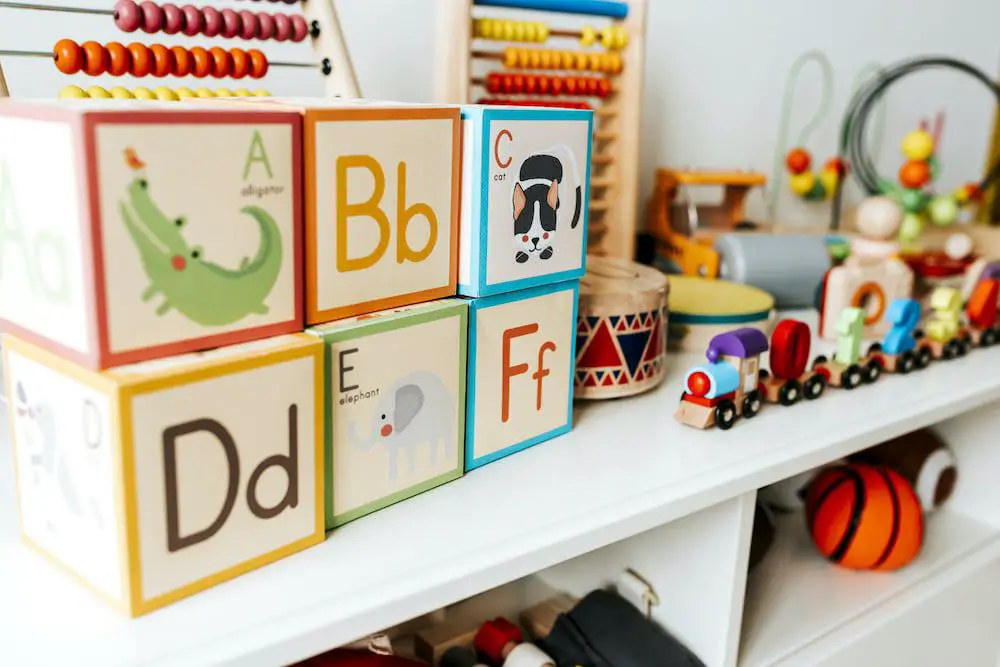 7. Active Toys
Toddlers are always active. They run around the house and get into all types of crazy situations. This helps build their physical strength and improves their confidence.
Your job is to watch them on the playground and be appreciative as they climb around and act silly.
Toys can also help with their activity.
Some toddlers may be slow on the uptake or may have physical disabilities that limit their activities. Therefore, toys can help them work through those issues.
Make sure to buy age appropriate toys that match their current skills level and help them build new ones.
Examples:
The toys you choose can help instill a sense of activity in your child. They include:
Balls of various sizes and shapes
Three-wheel scooters and tricycles (must have appropriate safety gear)
Basketball hoops
Plastic bowling sets
Pull-toys (those on a string)
Gardening tools
Wagons (fill and pull them)
8. Nurturing Toys With Cross-Generational Play
Adults are pretty good at playing with their kids and doing almost anything together. However, some toys are primarily designed to be played with adult participation.
As toddlers get to age three and up, simple board games that require the use of memory are suitable. You should look for options that don't need a lot of reading, though.
Anyone can play them, which makes it ideal for adult-child interaction. You can start a family board-game night and let the whole family play together.
Board games can help with matching, counting, memory skills, and self-control. Remember, everyone has to play by the established rules.
These games can also help build relationships (learn to win and lose gracefully) and help with language skills.
Benefits of Music, Sound, and Lights in Toddler Toys
Toddlers often have short attention spans. It's in their nature to go from toy to toy and thing to thing.
As such, when looking for what toys can help a child's development, first and foremost, you have to make sure that they actually play with them.
To get your child to stay with a particular toy for a while, there must be many different aspects to it. This includes various sounds, music, and lights.
These kinds of toys often have buttons, levers, and other ways to play.
These are often considered educational toys because there are multiple functions. However, this could have an opposite effect on the child.
When a toy does more things, your child has to do less to get it to be fun. They can often sit back and watch the toy make its performance, so it's not as educational.
You've also got to ensure that there are cause and effect.
If the child doesn't know which button produced the music or light, they aren't going to understand it and learn about actions.
Conclusion
Knowing what toys can help a child's development is key to giving your little one the help he needs to learn about himself and the world around him.
So, what are parents looking for in toys for toddlers?
Though many parents flock toward toys that have claims to be educational or make a baby smarter, these claims often aren't proven.
Usually, household items and toys that depict them are best for learning.
These can include clothes to play dress-up, plastic bowls, wagons, dump trucks for filling and emptying, and the like.
If possible, test the toy yourself before buying it and giving it to your child.
Make sure you can determine how to make each aspect work. That way, you can explain it to your child and help them develop the skills they need for life.