Most children are fascinated with electronic devices.
And it's not at all surprising, as us adults also spend so much time on them these days.
If you sometimes find it challenging to keep your child's attention during speech therapy, a speech therapy app might be able to help.
There are some fantastic apps available to help motivate your child to learn and practice their language skills.
We found and reviewed five of the best speech therapy apps to help you find the right one for your child's needs.
Let's take a closer look.
Best Speech Therapy Apps Reviews
1. Articulation Station (Best for Articulation and Enunciation)
Articulation Station was developed by Little Bee Speech.
This speech therapy app is one of the most comprehensive language-learning apps around.
Review
Articulation Station is a fantastic tool you can use to encourage children to articulate and pronounce their words correctly.
The app allows you to play within various levels to suit your child's needs, working at word, sentence, or story level.
It features over 1,000 pictures based on sounds that are targeted regularly by speech-language practitioners.
The pictures respond to 22 different sounds for your child to work on, placing the sound at the beginning, middle, or end of words, or all three.
In turn, this helps your child practice the different sound placements in a variety of words.
It's cute, colorful, and interactive and will keep your child engaged while learning.
Your child can press the flashcard to turn it over, play a game of memory, or read a story containing key sounds.
It also has a record function that provides audio feedback within the game, which is really useful.
Plus, it will also save your child's progress so that they can progress through the levels.
Pros:
Comprehensive learning tool
Free trial version to test if your child responds to it
Gives audio feedback
Allows you to track progress
Option to buy only the sounds you need
Cons:
The free version only features one sound
The full version is pricier than some of the others we found
2. My Talking Tom (Best for Reluctant Talkers)
Outfit7 released My Talking Tom in 2010, but it's still our favorite "talking animals" app to this day.
Review
The My Talking Tom app wasn't specifically designed for speech therapy.
Still, it's our go-to app for getting reluctant talkers talking.
The game features a cat that repeats everything you say back to you in a funny voice, and children love it.
It works really well for motivating them to practice their sounds and words.
You can challenge them to see how many times they can get the cat to say its "p" or "sh" sound correctly.
As a reward, they can then access the game's other features, which include feeding, dressing, and petting him.
Plus, it has plenty of mini-games built within, including puzzles, memory games, and football goal-shoot.
The free version does contain a lot of ads, but you have the option to subscribe monthly for unlimited ad-free play.
Pros:
Motivates children to talk
Provides audio feedback
Very popular with children
Con:
Lots of ads in the free version
Related: Speech Therapy Games
3. Starfall ABCs (Best for Alphabet Practice)
Starfall ABCs is by the Starfall Education Foundation, a publicly funded non-profit organization.
This app is an excellent tool for helping your child learn the alphabet and practice their sounds.
Review
Starfall's ABCs app is a solid, teacher-approved tool designed to help children learn their ABCs.
The app is colorful and fun, teaching children lower and uppercase letters and showing them how they sound.
The app also teaches children about vowels, counting, colors, and more.
Some of the content is only available if you donate Starfall.
And if you choose to, it's nice to see your money going to a non-profit organization.
Some parents find that they don't have to donate, as there is plenty of free content they can access.
All of these will help your child learn the alphabet and widen their vocabulary.
Within the free content, your child will have the opportunity to see, hear, and interact with each letter, in context with words and sentences.
It contains songs with actions that are fun to learn together, and it also has lots of interactive mini-games for them to play.
It's a really great example of how learning can be made fun, containing the perfect amount of repetition and silliness to keep kids interested.
For example, they can watch the letter "T" roll onto the screen on a train, with turtles playing tunes at the end of it.
Then, they can have fun sorting the capital and lowercase letters out or picking the odd ones out.
You can encourage your child to repeat the sounds and words they hear.
Overall, it's a great free resource, and it will massively improve your child's confidence in the classroom.
Pros:
Teacher-approved
Free content with no ads
Wide-ranging content
Improves enunciation
Also teaches the alphabet in sign language
Cons:
No audio feedback
Doesn't save progress
4. Splingo's Language Universe (Best for Receptive Language Skills)
Splingo was released by the Speech and Language store.
It is an instructional app that will help improve listening and language skills.
Review
We love that Splingo was designed by speech and language therapists and aligns with common core standards for speaking and listening.
It focuses on nouns, verbs, prepositions, and adjectives.
The learning is fun and appealing to children, primarily due to the colorful Splingo alien character the game is centered around.
Children are given instructions they must follow to complete tasks and progress through the game.
It is designed in a way that users can play it in multiple difficulty levels, so you can set it to your child's current ability.
There is also an option to save their progress.
Unfortunately, this game is only available on iOS devices (not Android), which means you need an iPhone or iPad to play it.
For those that do have an Apple device, there is a lot of great content on this app.
Best of all is that it's available at an incredibly low one-off price.
Pros:
Very affordable
Teaches multiple language goals at once
Developed by speech and language therapists
Saves your child's progress
Con:
Not available on Android devices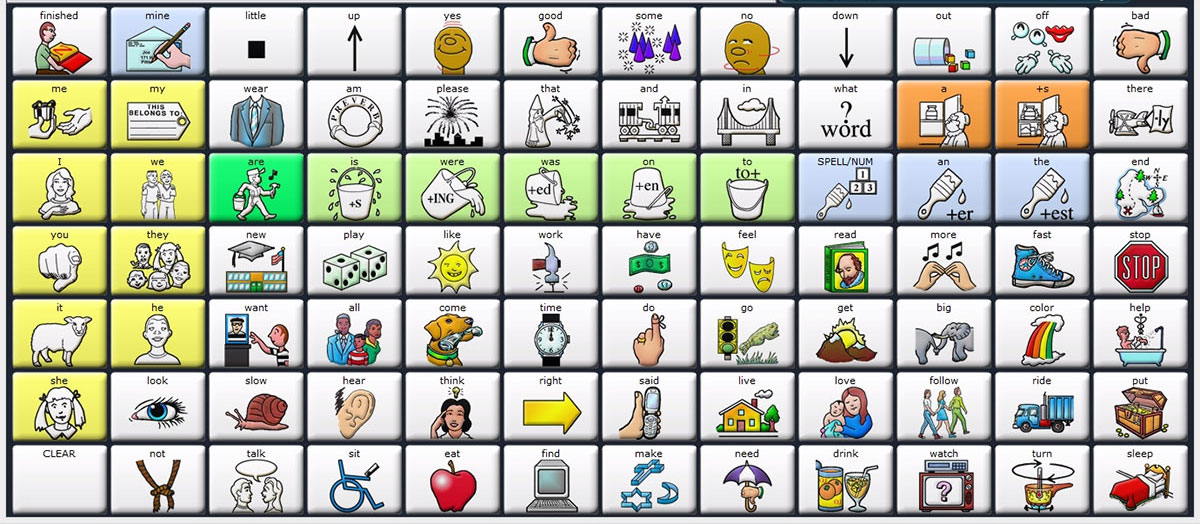 Developed by Prentke Romich College, LAMP aims to help children with autism advance their speech and communication skills.
Review
This app is based on the Language Acquisition through Motor Planning (LAMP) system.
LAMP has proven to be highly successful in improving speech skills in children with autism and allows unlimited language growth opportunities.
It features a consistent motor pattern for words, and its systematic approach to learning is comforting to children with autism.
It contains three different vocabulary levels (introductory, transition, and full) that range from 83 to 3,000 words.
It's a symbols-based approach that works well with young children who are just beginning to communicate.
It is also suitable for older kids with advanced skills.
This app has been around for a few years, and it consistently rates very highly with parents.
However, it is also quite pricey and only available on the iPad, making access difficult for some.
Pros:
Suitable for all abilities
Offers a consistent, systematic approach to learning
A proven strategy for developing language skills
Cons:
Expensive
Only available on iPad
Which Speech Therapy App Is the Best?
Choosing a single winner out of the five apps is a tricky task.
After all, the best speech therapy apps for one child will be different for the next.
Each child has different needs, and we hope you find something on this list that will help develop your child's speech and language skills somehow.
If we had to pick a winner, we would vote for Splingo's Language Universe.
We love that SLPs designed it, the content is solid, and the app is also very affordable.
It would also help if you try to limit your child's screen time, and these great toys and books can help with that.